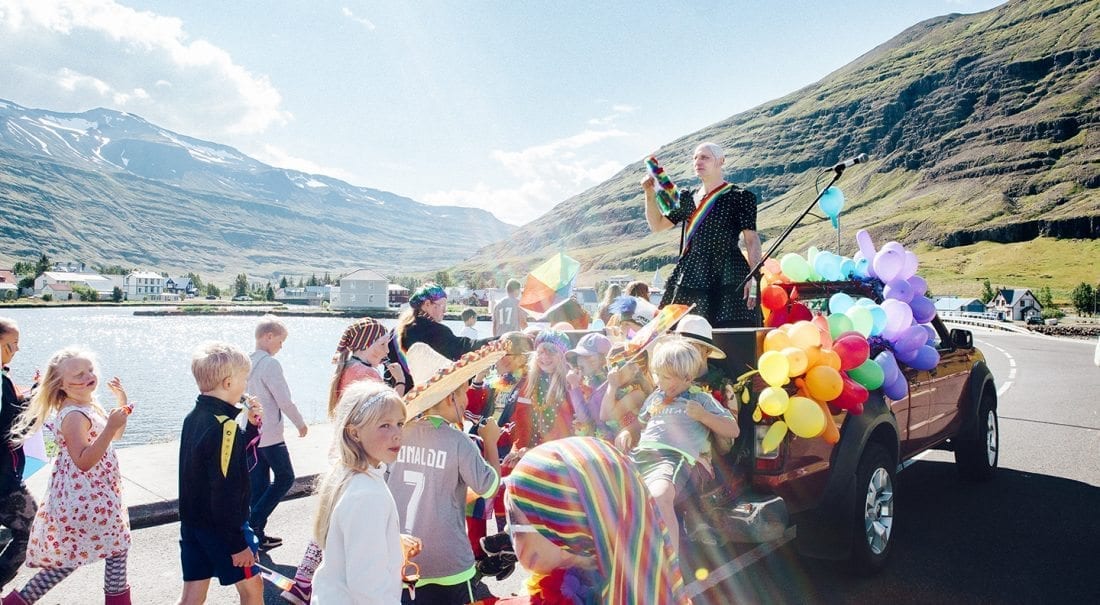 Why Austurland?
So – who lives in Austurland? As ever, the region holds a few surprises and it's more diverse that you might initially expect. We asked the journalist Carolyn Bain to look around in the east and investigate why some people have decided to build a life here even though they are born and raised in – sometimes – faraway places. 
Celia Harrison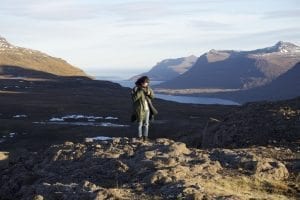 Celia is a New Zealand-born artist and designer, and a co-founder of Seyðisfjörður's List í ljósi  festival. Each February, the festival lights up the town with artworks by international and local artists. Celia first visited Austurland in 2015 to take part in an artist residency and now calls Seyðisfjörður home.
Why I love Austurland
I arrived by ferry, and I fell in love with Seyðisfjörður the moment the ferry entered the fjord. It was wrapped under a thick blanket of fog with the colourful houses beckoning me to participate in this community. There is something very special about the east, the people, the landscape, the space. In Seyðisfjörður, you are hugged by mountains that drop into the sea –  they create this sense of security and at the same time remind you about the power of nature. I get a lot of creative energy from the landscape. A local once told me it's because of the crystals…
My favourite place
Every morning, the view from my window when I wake up makes me contemplate how lucky I am.
Cathy Josephson
Cathy hails from Minnesota, USA, and now resides in Vopnafjörður. Her Icelandic ties stretch back generations – her grandparents emigrated from Vopnafjörður in 1893. Cathy first visited Iceland in 1994, and is now married to an Icelander. She works in the East Iceland Emigration Center, helping descendants of emigrants trace their Icelandic roots.
 Why I love Austurland
I am a daughter of generations of farmers, but like so many young people I decided to 'look around'. In 1994 I traveled to Iceland with my father, siblings and many cousins – and fell in love. After living in cities and towns from Virginia to California, Georgia to Minnesota, far from family and friends, I had finally come home – to East Iceland.
My favorite places 
For me, my favourite places are shared with our guests from the Americas. Here at the Emigration Center we are actually in the family reunion business. So many people left East Iceland, and their descendants visit us every summer – asking about distant cousins, asking where the old family farms are. Their places are, for a day, our places and their family becomes part of our family – always!
All Iceland's countryside is special to me – but, of course, my favourite haven is here at Refsstaður in Hofsárdalur. Especially when the summer flowers are bright, the strawberries are red and sweet, the field grasses rustle in the breeze, and the young waxwings are fluttering into their new lives. Or especially when the sun hangs low in the evening sky, gilding all the landscape. Maybe, rather, when the night skies are a-swirl with the northern lights in all their colours and fighting with our Christmas tree for attention!
Charles Ross 
Charles is a British-born musician, composer, ethnomusicologist and music teacher who grew up in Scotland and has lived in Austurland since 1986. He writes for and plays with contemporary music group Stelkur, plus various other musicians and orchestras, and splits his time between Eiðar and Fáskrúðsfjörður.
Why I love Austurland
Lots of reasons. The people (mostly the lack of them), the wild craggy shoreline, the strange individuals (of which I have become one). The new growing woodlands and the old spindly tangled dwarf ones. The wildlife and the semi-tamed life around the farms. The enormous circling sky.  The feeling that I came here alone and now I am surrounded by family. Probably most important is the overall feeling of a ghostly, sentient landscape, something that gradually surrounds, then permeates mind, body and soul.
My favourite places 
Húsatjörn at Eiðar is a wonderful lake surrounded by woodland. Just about all of my musical works begin their lives there with me walking around the lake, dreaming, thinking. Also Kolfreyastaður on the peninsula between Reyðarfjorður and Fáskruðsfjorður, for its incredible sense of space and timelessness.
Nelita Vasconcellos
Nelita is a teacher and language expert from São Paulo, Brazil. She has lived in Iceland for over six years (including two years in the west, and two in the south) and she currently lives in Djúpivogur with her Icelandic husband. Nelita is involved in various projects, including providing information for summer tourists to the area.
Why I love Austurland
I love the unbridled nature and the spectacular fog that engulfs us, creating a magical, out-of-this-world atmosphere. We are surrounded by spectacular natural beauty at every turn, and Djúpivogur's message to slow down and enjoy it is a great message to take to heart.
My favourite place 
I love to climb the rocks at the beach in Djúpivogur, especially when it's high tide or the weather is stormy. I watch the sea crashing on the rocks, breathe the fresh air, and find my inner happy place. I do that (almost) every day, whatever the weather.
Text by Carolyn Bain. She is an Australian travel writer who has been visiting the Nordic region for close to 30 years. She has written dozens of guidebooks and articles for destinations around the world, for publishers including Lonely Planet and BBC Travel, but her heart belongs to Iceland. 
Feature photos by Rhombie Sandoval. 
Read more