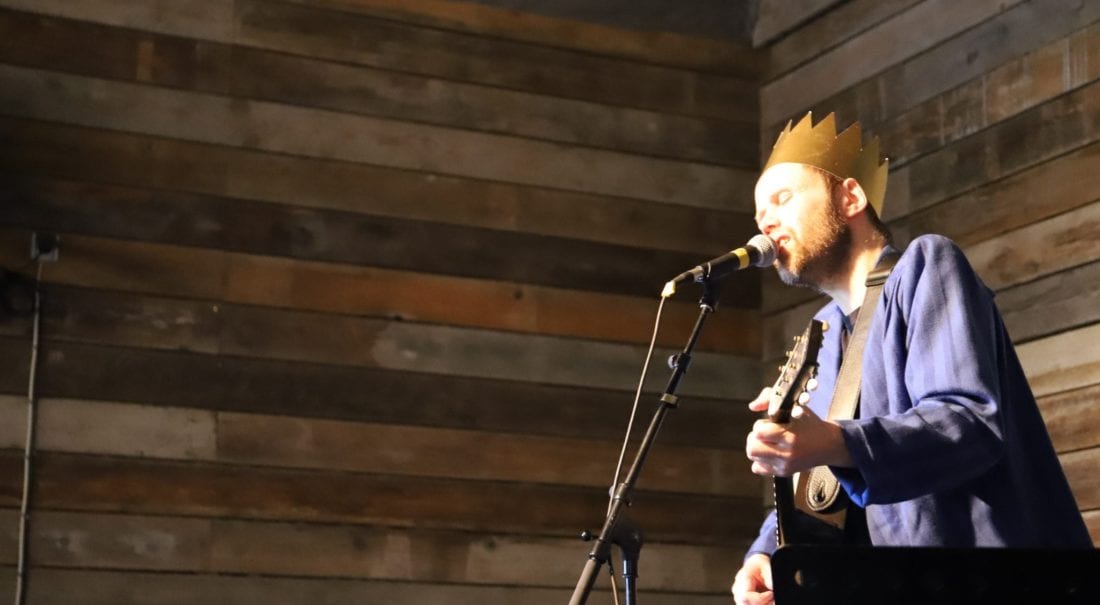 Havarí: A Place to be Creative
…on life at the farm, writing choruses on gravel roads and working with the locals
Havarí – is a rose in one of Austurland's most rural fjords. It is both a farm which produces organic food plus a cultural hub (the location for jam-packed summer concerts, where Iceland's finest perform). It also happens to be the home of "Prins Polo" – aka Svavar Pétur Eysteinsson – Iceland's unlikeliest pop star.
"Havarí is the place for my wife Berglind and I to be creative, to host concerts, to offer coffee and the food we love. Here we can gather people together and just make something happen, all kinds of húllumhæ" says Svavar Pétur, aka Prins Polo. He has just released a new record called "Þriðja kryddið" (The third spice) and, as always, people are listening.
Havarí in Karlsstaðir, Berufirði, is their home and appears to be an extension of the couple, who have become famous for organic food production and their vegan hot dogs, called Bulsur. The couple were born and raised in Reykjavík but moved east some years ago. A move that the national media discussed at great length. Why on earth were these arch hipsters moving to Austurland of all places?
Well, it just seemed like "a good idea at the time", and they are still here, and still making headlines.
The new album, just released, was mostly done at the farm. Does it make life difficult having to do all the work out here in the "wilderness"?
"The centre is not where it used to be" says Svavar. "The scene doesn't exist in the same manner it used to. Producing an album is mostly digital work and can be done where ever. I can do it here at the farm just as easily as I can in Reykjavík".
Prins Polo actually started a number of years ago as a project in Seyðisfjörður and has always functioned outside Reykjavík. "Berglind and I moved east a few years ago, and I needed an outlet for my music. Thus, Prins Polo came into being, and I've become pretty self sufficient in most things. Of course, while making my records I sometimes need to work with people outside the region simply because I have to".
Do you make an effort do work with local people if you can?
"Yeah, I do actually. For instance, the art work for the new album was made with Kox, a local photographer in Egilsstaðir. I had a specific idea for the album cover but I needed someone to help execute it. I went online and was most certainly going to work with someone far away, but then I came across Kox and I just thought, why should I go further than Egilsstaðir to do this? It felt kind of liberating to take a drive to Egilsstaðir and not to Reykjavík. So basically, I made the record from scratch here at Havarí, excluding a trip to Berlin for the final touches. My producer lives there and we had to work closely together for ten days to finish the album. But everything else was more or less made here".
Do you write music at the farm?
"Sure, I have a work space area, a hangout that sometimes looks like a work space and sometimes a dump. When I work on music I tidy the place up, mop the floors and just keep the place clean. But, I find that often the best ideas are born while driving the roads here. Our farm is pretty isolated, which means I have to drive a lot. While driving I often come up with parts of new songs, especially choruses. I record them on my phone, the result being – I have a bunch of choruses – of which, some will end up as songs".
Inspired by the gravel roads then are we?
"Yeah, maybe", says Svavar and laughs.
The barn at Karlsstaðir has been recently renovated and made into Austurland's most popular concert venue, where some of Iceland's most distinguished musical acts play, often to a full house. Last summer, Havarí hosted a string of concerts under the banner "Summer in Havarí". Many of Iceland´s hottest acts came east to perform at the barn and the vehicle was an instant success. This year's program has been  pretty exciting too and Ásgeir Trausti will be performing this weekend.
Text: Jón Knútur Ásmundsson
Photos:  Various (Cover photo for Prins Polo's last album  by Kox)